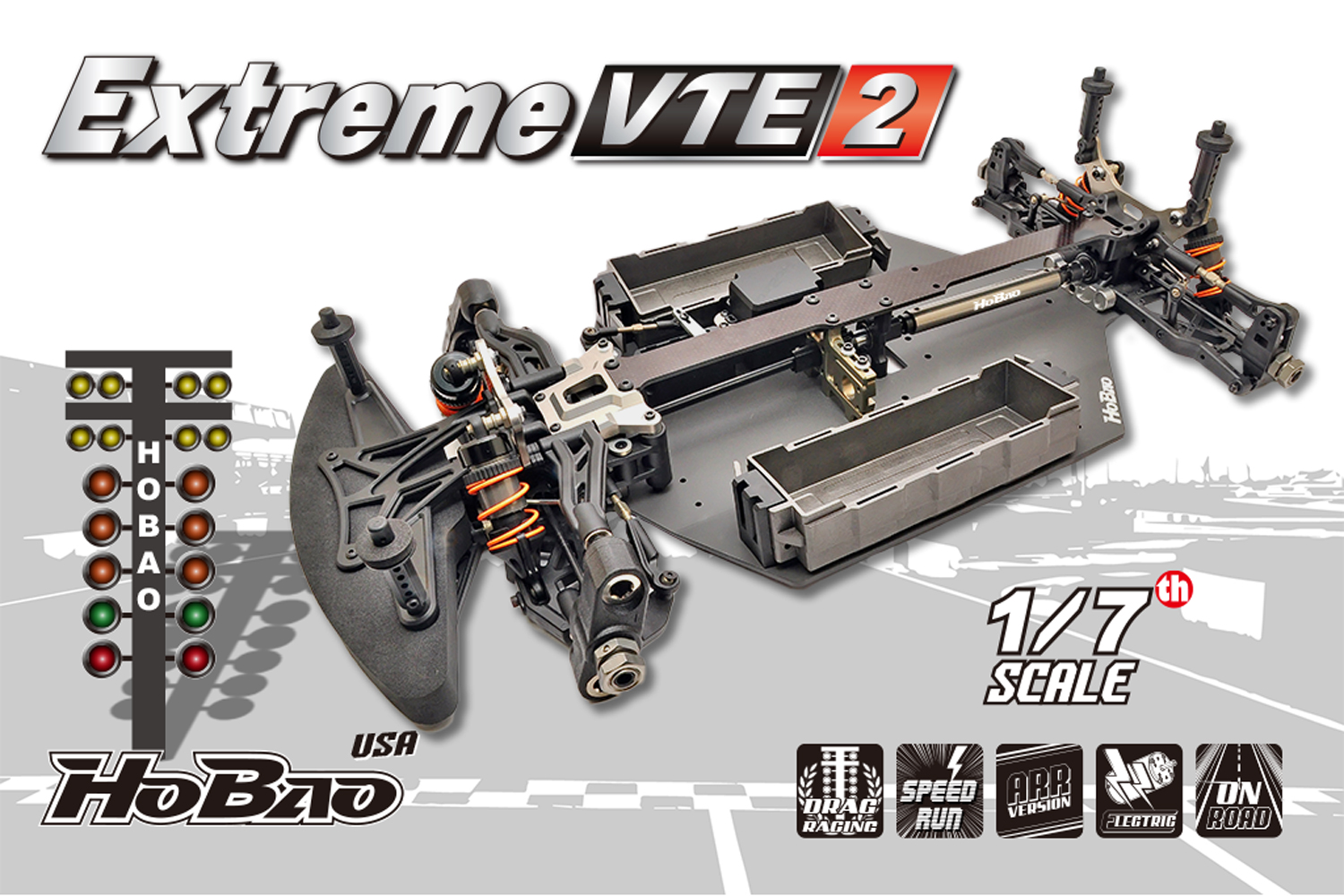 Unbeatable King on the Dragstrip
The 1/7 Extreme VTE2, the dominator made for Drag Racing, is the new on road platform from HoBao. Utlizing all advanced 7075 aluminum parts and brilliant suspension system, Extreme VTE2 lets all racers enjoy unbreakable speed record and slash on the drag racing event.
Weight distributor is the key point for speeding performance and VTE2 optimizes the chassis design with four options of weight balances. Plus the factory built-in CNC aluminum 7075 RR suspension mount ( 0° ), the truck gets more rear traction and better cornering balance for high speed racing on drag strip surface.
As a pre-built roller, VTE2 provides more possiblity for racers to choose their favorite drag tires & wheels, drag car body to acheive the extreme speed possibility.
[FEATURES]
#CNC Alumimum 7075 parts: Turnbuckles, Balls, Pivot Balls, Steering Racks, RR Suspension Mount (0°), Motor Mount and Slider.
#Chassis: 3mm thick hard anodized aluminum with battery tray.
※Optional part #OP-0144 lightweight carbon fiber chassis.
#Drive: 4WD drivetrain, Hardened steel driveshaft, New center driveshafts with aluminum shaft and steel ends
#Differentials: Bevel gear type, Front and Rear, New anti-leakage differential housing, Hardened steel lightweight cups.
#Center Spool: 34T spur gear (MOD 1), 8mm shaft, hardened steel cups.
※fit for 8mm bore pinion gear.
※The largest spur gear can be applied to 48T
#Motor Mount:CNC aluminum, cam lock style
※Optional part #OP-0141 for O.D 57mm motor.
#Battery Box: Quick release large capacity battery tray with 3 hook and loop straps.
※Battery directly fixed onto the chassis with hook and loop straps is also viable.
#Shocks: Oil-filled 17mm big bore shocks, 4mm diameter shafts.
#Shock Towers: 4mm thick CNC aluminum.
#Ball Bearings: Full set included.
#Suspension: Front and rear sway bars, front PBS, reinforced composite upper arms and lower arms
#Caster: Adjustable
#Camber: Adjustable
[REQUIREMENTS]
2-Channel Radio/Transmitter Set
ESC & Motor
Pinion Gear for Motor
Tires,Wheels, and Glue for tire
Body and Paint for body
High-torque Steering Servo
LiPo Batteries
Battery Charger
Batteries for Transmitter