TOURING CAR

Hyper One-Seven Evo Hyper GPX4-Pro 1/7th scale Onroad
DOWNLOAD

Hyper One-Seven Instruction Manual.pdf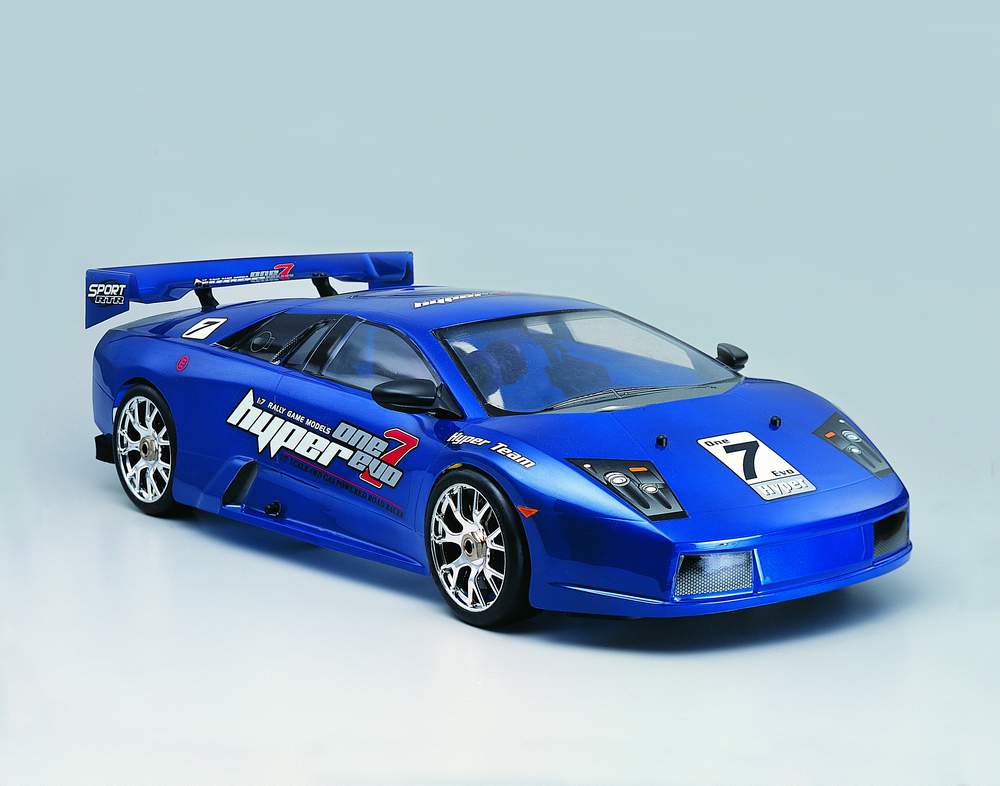 When we decided switch our Hyper chassis to on-road we felt it was only right to do the job properly. The main issue when converting an off road 1/8th chassis to on road is that it is impossible to produce a scale looking bodyshell to suit, with the result being a shell that is too wide and too short.

With this in mind, we decided to produce and design from the ground up a completely new, 1/7th scale chassis that would mirror its full size counterpart.

Modeling the design on some of the worlds most famous and desired super cars, the Hyper One-7 is a true scale on road performer in every sense, while retaining all of our knowledge and development from our off road program.

Scale details include highly detailed pre-painted bodyshell, wing mirrors, and rear spoiler along with a dual exit rear exhaust, alloy finish wheels and slick, low profile tires. These are complemented with a choice of 2-speed forward only gearbox or a 2-speed forward and reverse 3-channel version.
---
< FEATURES >
Low Profile Design

The Hyper One-7 features an extremely low center of gravity design for optimum handling and use of low slung Evo style bodyshells.

Foam Bumpers

Whichever bodyshell version you choose, the Hyper One-7 comes standard with accurately cut foam bumpers, front and rear to fit exactly the dimensions of the bodyshell for the ultimate in protection from impacts.

2-Speed Gearbox

The stock Hyper One-7 features an automatic 2-speed gearbox with steel machined gears. Fully adjustable for low or high rpm gear change depending on venue size.

2-Speed Gearbox with Reverse

For an even closer scale experience, the Hyper One-7 is also available with a reverse module gearbox. This unit works with an extra servo for switching gearbox direction and is supplied with a 3-channel radio.

Rear Exhaust


We designed a special muffler for the Hyper One-7 that re-routed the outlets out of the rear of the bodyshell just like the real thing.
Powerful .21 engine with pull starter
Independent suspension system with Pivot Ball
Front and rear gear differentials
New low-positioned shock absorber system, with 3.5mm shock shaft
Special brakes disc system
New lighten designed chassis
Race high grip slick tires
Enlarged and low C.G. 250c.c. fuel tank
New designed rear exhaust pipe for scale appearance
Full-time 4WD Shaft Drive
Full ball bearing set
Choice of three pre-painted and trimmed body shell
Steel universal driveshafts front and rear
---
< EQUIPMENT NEEDED >
Glow plug
Glow ignitor
Nitro fuel
Batteries for radio system
---
< SPECIFICATION >
| | |
| --- | --- |
| LENGTH | 735MM |
| WIDTH | 305MM |
| HEIGHT | 180MM |
| WHEELBASE | 396MM |
| WEIGHT | 4,100G |
---
< PHOTO GALLERY >